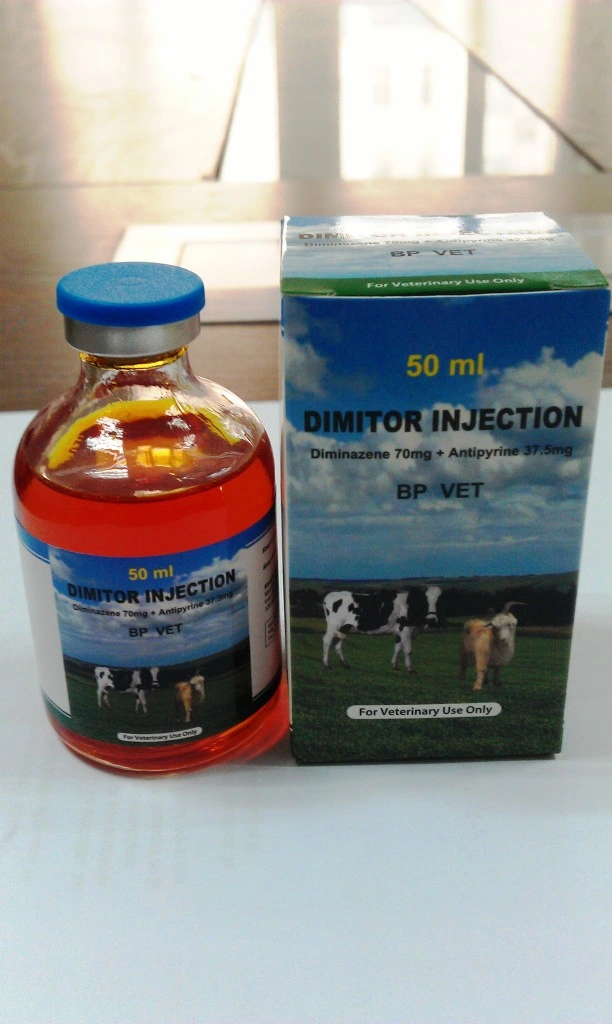 Diminazene 70mg+ Antipyrine
37.5mg
Injection
Veterinary
NAME:
Diminazene 70mg+ Antipyrine 37.5mg
Injection
C
OMPOSTION
:
Each ml contains:
Diminazene Aceturate B.P. Vet C.......70mg
Antipyrine
B.P...............
.
37.5mg
Water for Injection B.P...............
..........
q.s.
P
ROPERTIES
:
The product is orange red clear liquid.
D
ESCRIPTION
:
The active ingredient of
product
is Diminazene, drug
i
s the diamidines family used as aceturate salt.
Diminazene aceturate is highly active against bothe Trypanosomes and Babesia spp. It is also of value in
the treatment of theileriousis in combination with antibiotics. It is especially useful for treatment of
mixed protozoan infections.
Antipyrine ensures a
c
omplete solubility of the Diminazene and acts as a support against inflammation
and fever.
I
NDICATIONS:
Cattle, sheep, goats, horses, and dogs.
Treatment of protozoan diseases.
Tr\tpansomiasis due to Trypanosoma congole n s e, T. vivax and T.Brucei.
Pyroplasmosis due t0 8abesia Bovis, B. bigemina, B. ovis, B. motasi, B. Canis
Theileriosis due to Theileria annulata.
D
OSAGE AND ADMINISTRATION
:
Dosage: The recommended dosage is 3.5mg of Diminazene aceturate per kg of bod
y
weight as a single
Injection. Do not exceed a total dose of 4g of active ingredient in any animal (or 56ml of
product
Injection
)
Administration: Deep intramuscular injection
Cattle, sheep, goats, horses: Injection the solution as per the recommendations given below
:
Body Weight
Volume of
the Solution
As quantity of Diminazene
Aceturate
For infection with T. Brucei or other trypanosomes of tenacious nature use higher dose 8mg per kg body weight, but do not exceed a tota
l.
dose of 4g active ingredient per animal (or 56ml of
product
Injection).
Dog: 3.5 mg Diminazene Aceturate per kg body weight or l ml
product
Injection per 20 kg body weight.
Administration: Inject
product
intramuscularly in horses and cattle; and subcutaneously in cattle only
N
OTICE:
Be ready to use
injection
.
Keep out of children.
R
ECOMMENDED SHELF LIFE:
3
years
.
S
TORAGE:
This product is suitable for dry and dark place
below 25 degrees
to store.
Keep out of the reach of children.
P
ACKING
:
50ML,
100ML per bottle.