Top Manufacturers Cattle Goat Catfish feed pellet machine Price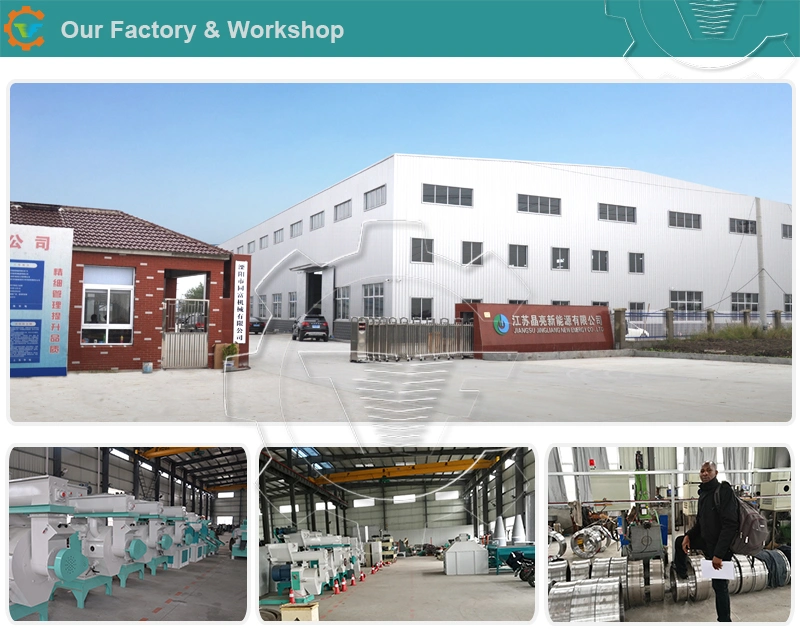 Cattle Goat Catfish feed pellet machine Description:
1.This series animal pellet machine suitable for making all kinds of animal feedstuff. Which capacity 1000-400000 kg for feed factory .
2.The machines can be match different size of ring die hole size , such as φ1.0,φ1.2,φ1.5,φ2.0,
φ2.5,φ3.0, φ3.5,φ4.0,φ4.5,φ5.0,φ6.0,φ8.0 , always for making shrimp, fish feed to use for φ1.0--3.5 ring die ; chicken feed for φ3.0; Swine feed for φ3.0--4.5; Cattle, horse for φ6.0--8.0.
3.The machine adopt imported SKF or NSK bearings, the motor brand is Siemens or china famous Wannan brand .
4.Driven by gear .more strong than by belt, and the capacity 10% higher than by belt .
5.the
feed pellet machin
e also matched the safty equipment , once overload , the safty pin will crack, to protecting the machine lifetime.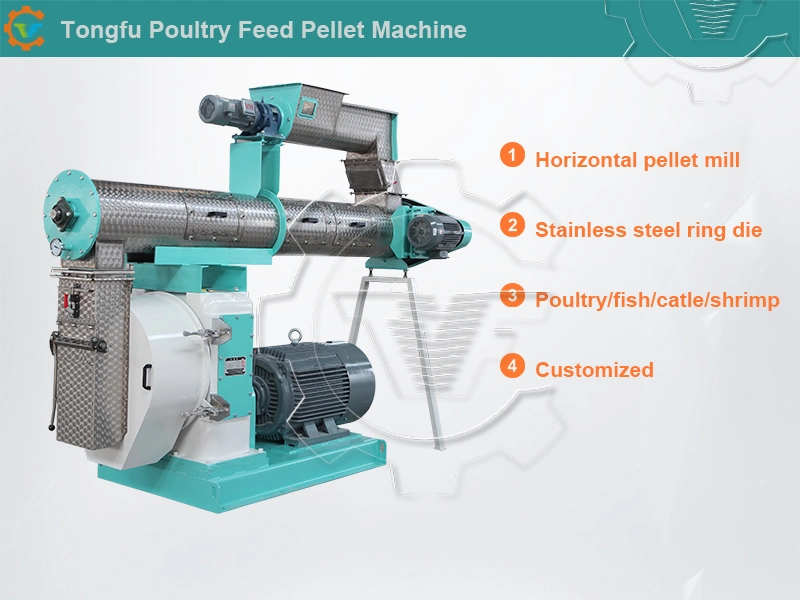 Cattle Goat Catfish feed pellet machine
Features:
1. Main drive adopts high accurate gear drive, with an output of about 20% higher than belt drive, and the die adopts the quick removing clamps.
2. The drive part of the
animal pellet machine
including motor optimize the high quality world famous bearings, which ensure high efficient and steady driving with low noise.
3. The imperative feeder device is adopted, which making the machine operate smoothly as the material like wood sawdust, rice straw is very light, so they are needed to be pushed into pelletizing chamber by force.
4. The feeder adopts the frequency-conversion speed regulating control to guarantee the quality of wood pellet.
5. The alloy steel die is made by international advanced German gun drill and American vacuum furnace, has long service life and ensure smoothly pelletizing and high quality.
6. The international advanced compensation type flexible coupling is of novel and compact structure, safety, low noise and less trouble.
7. Permanent magnet device can remove impurities in the pelletizing process.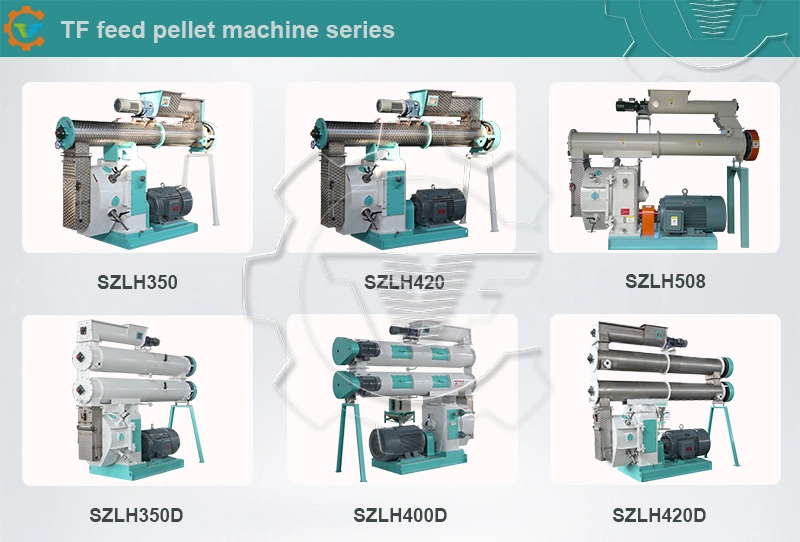 Cattle Goat Catfish feed pellet machine
Structure:

1 Feeder: for feeding the feed raw material into the conditioner.
2. Conditioner: raw material are ripened and sterilized due to the vapour steam. which can improve the digestibility of the feed, promote the absorption, increase the feed meat ratio and reduce the production cost.
3. Vapour steam inlet connection with steam boiler.
4. Pellet making: the ring die and press roller inside work together to make the raw material into pellet.
5 . Main motor : driving the pellet making system.
Technical Data of
Cattle Goat Catfish feed pellet machine
:
Type

Model

Main Power(kw)

Capacity(t/h)

Ring die(mm)

Remark

Single&Double-layer type

SZLH320

37

2~5

320

For model with D, like SZLH350D,means with double layer.

SZLH350

55

1.5~8

350

SZLH400

75/90

2~10

400

SZLH420

90/110

3~12

420

SZLH508

132/160

4~20

508
we have several types of
animal
pellet machine
which can respectively produce livestock feed pellets, poultry feed pellets, aquatic feed pellets, etc.

a. For pig, the pellet diameter is usually 3.5-6.5mm.
b. For cattle, the pellet diameter is usually 4.5-8mm.
c. For chicken, pellet diameter is usually 3.2mm.
d. For fish, pellet diameter is usually 2.0, 2.5, 3.0mm.
e. For shrimps, pellet diameter is usually 1.0- 3.5mm.


Related Animal Feed Pellet Production line:

A complete animal feed production line includes:
Hammer Process, Mixing Process, Pelletizing Process, Cooling Process, Crumbling Process,Sieving Process and Packaging Process.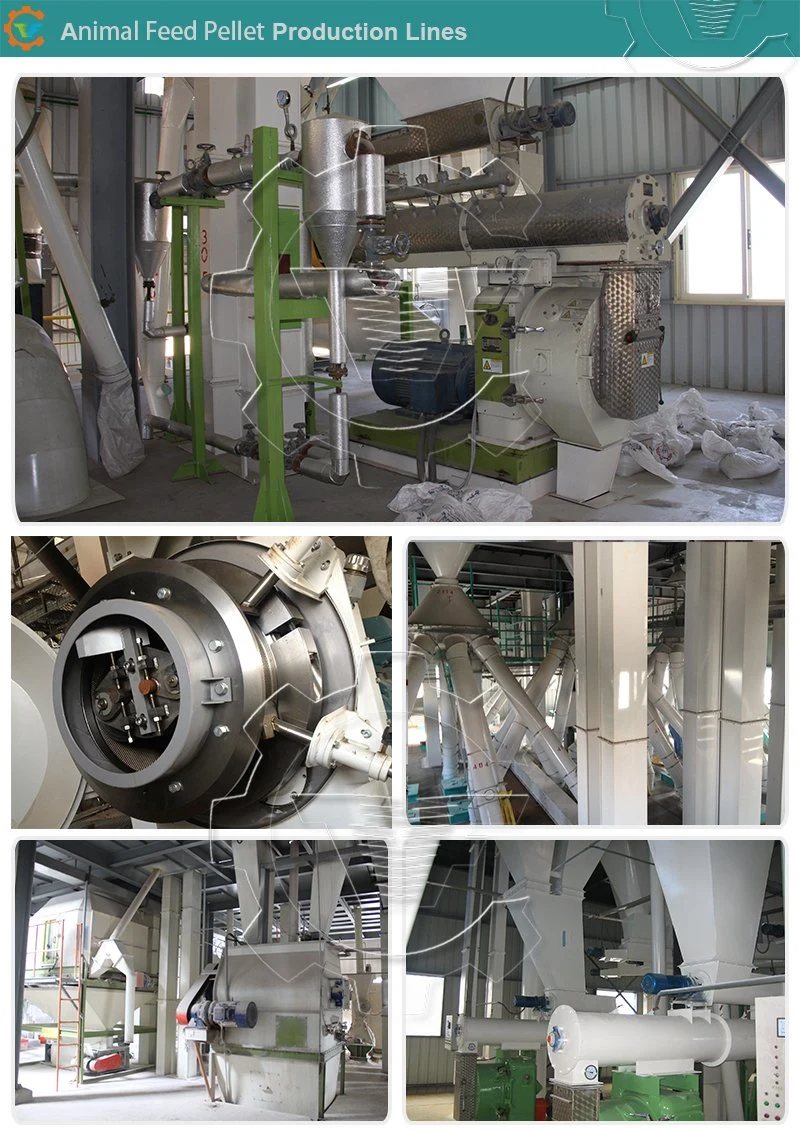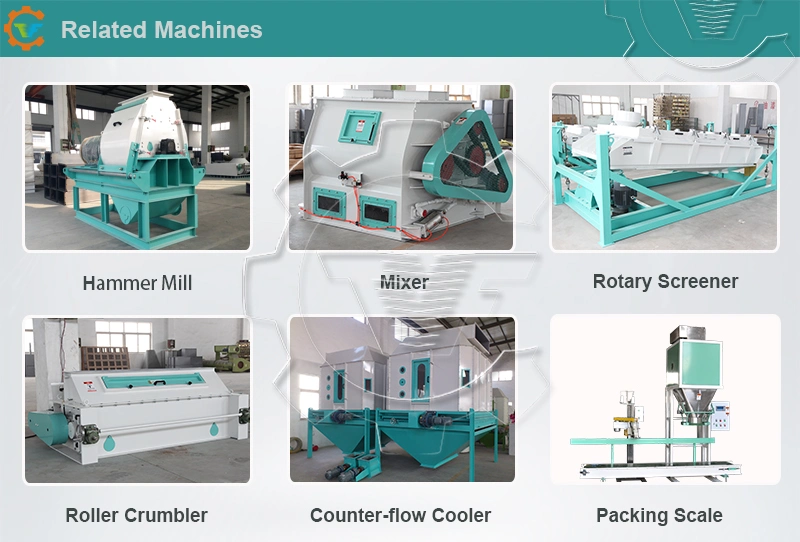 FAQ:

1. How did you define your animal feed pellet machine model as 350 /420 / 508, etc.
The model is defined based on the diameter of the ring die mould.For example, mould 350 means that the diameter of the ring die is 350 mm.

2. If we only buy one set of animal
pellet machine
, could we produce feed for different kind of animal and poultry?
Yes. of course. What we need to do is just have different size of ring die mould according to the requirement of different animal and poultry. and the replacement of the ring die mould is very easy.

3. Is it possible that we only buy one set of feed pellet machine to produce animal feed without other equipment?
Yes, It's possible. but you'd better find the proper way to load and mix the raw material. otherwise, you will have to do such jobs by hands.

4. What is the suitable moisture (water content) of the raw material that easy to make feed pellet?
the ideal moisture range is from 15% to 18% .

5. What is your aftersale service?
--Our guarantee time is 1 year.
--Each order machine we provide installation drawing&pellet mill operation manual. If needed, engineers can be sent to your factory for installation and commissioning, training.
--Any problem in operation or others about machines, we will give solution in 24-48 hours.

6. How to get to your factory?
You can get a flight to Nanjing Airport. It just takes about 1 hour from Nanjing Airport to our factory by car.

7. What is your payment term?
We can accept various payment terms if it is convenient for you.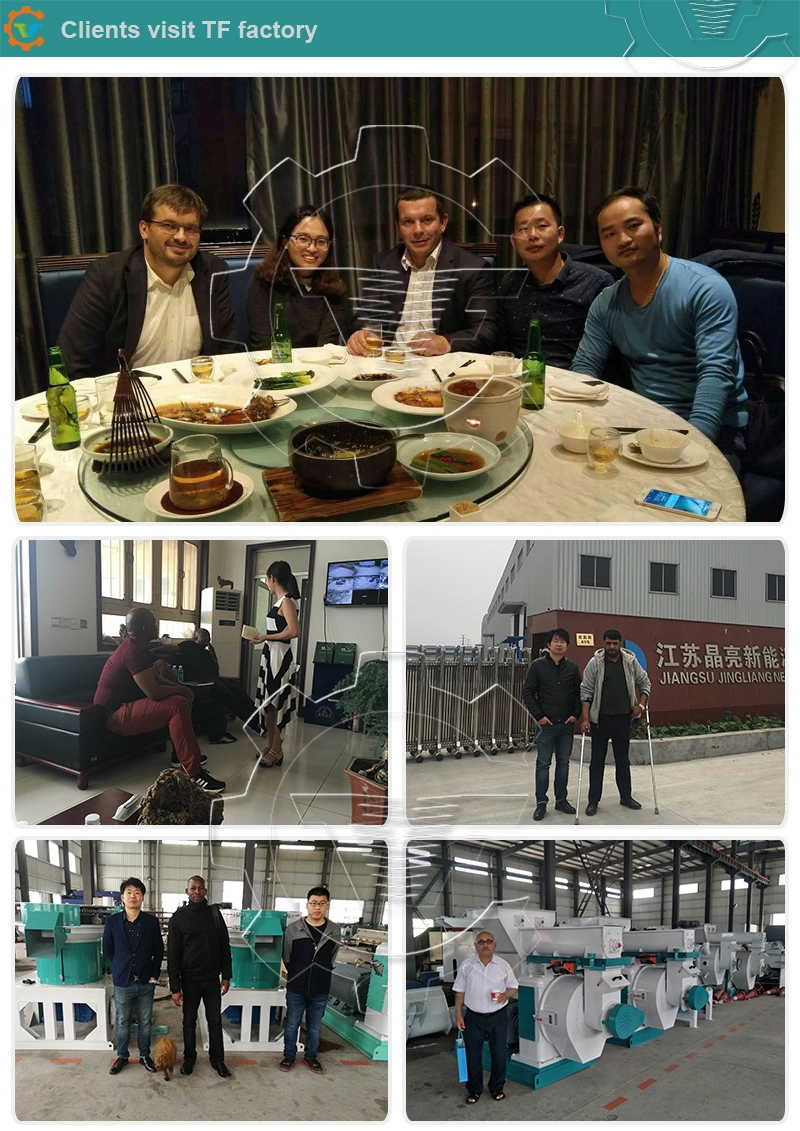 Tell us your question please, TF Pellet machine team is waiting for your early contact and ready to be your business partner!



Contact: Jennifer
Web: pelletmachine.en.made-in-china.com