Animal/Poultry/Cattle/Chicken Feed Pellet Machine Ring Die
Weikeer can manufacture different kinds of ring dies according to clients' requirements
The products are widely applied to large, medium & small-sized aquaculture, food and feed mills, livestock farms, poultry farms, individual farmers and small & medium-sized farms, farmers or large, medium & small-sized feed mills, which are feed processing machinery for directly pressing corns, bean pulp, straws, grass, rice husks and other shattered objects into granules.
Ring die is very important part of ring die pellet machine in the whole manufacturing process. The quality of ring die not only directly relates with the quality and output of pellets, but also the running state of equipment and maintenance cost.
1. Material of the ring die: X46Cr13 /4Cr13(stainless steel), 20MnCr5/20CrMnTi (alloy steel) or customized
2. Hardness of ring dies: 52-60 HRC
3. Diameter of ring die can do: 1.0mm up to 28mm
4. Pellet die type can do: Ring Die or Flat Die
5. Outer diameter can do: Outer diameter up to 1800mm
6. Pellet Die model we can customize:
CPM, Buhler, CPP, OGM, Zhengchang(SZLH/MZLH), Amandus Kahl, Muyang(MUZL), Yulong(XGJ), AWILA,PTN, Andritz Sprout, Matador, Paladin, Sogem, Van Arssen, Yemmak, Promill; etc. We can also customize for you according to your drawing.



Specification customized:


We can supply ring die for

all the main brands

of pellet machine such as

ANDRITZ

, CPM, ZCME, IEMME, JKAP, SOGEM, SPROUT(UMT), MATADOR(UMT), MABRIK,BUEHLER, PALADIN, PTN, YIAD,JIATONG,PROMILL,YEMMAK etc.

Custom dimensions and drawings of ring die are welcome

.





Following are the normal Model of each brand:


For Zhengchang pellet mill: SZLH250,
SZLH300,SZLH320,SZLH350,SZLH400,SZLH420,SZLH508, SZLH678, SZLH768, etc
For Muyang pellet mill: MUZL180, MUZL350, MUZL420, MUZL600, MUZL1200, MUZL610, MUZL1210, MUZL1610, MUZL2010; MUZL350X, MUZL420X, MUZL600X, MUZL1200X(Especially for shrimp feed pellet, diameter: 1.2-2.5mm)
For Awila pellet mill: Awila420, Awila350, etc
For Buhler pellet mill: Buhler304, Buhler420, Buhler520, Buhler660, Buhler900, etc.
For Kahl pellet mill(Flat die): 38-780, 37-850, 45-1250, etc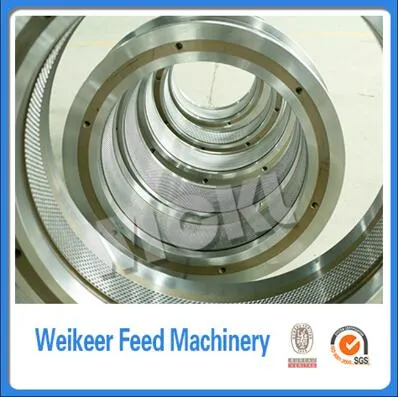 Main Manufacturing Process of Ring die
1.Forging and Lathing:
Extremely precise forging and lathing assure high dimensional accuracy, bright and clean surface.
2.Die Hole processing:
Advanced Germany gun drill equipment, tools and drilling hole software are used in die hole processing:
High accuracy of die hole positon;
High rotating speed and imported tools and cooling liquid ensures process conditions as drilling required;
Small roughness of the processed die hole, ensure pelleting output and quality;
Quality and service life of die is guaranteed.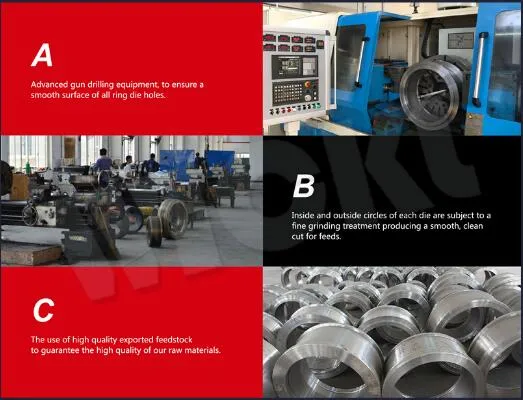 3.Vacuum heat treatment
Function:
Ring die surface:No oxidation reaction;
Die hole inner surface:Original smoothness;
High stability, High hardness;High tenacity
Compression Ratio of Ring Die
Generally speaking, the higher the compression ratio, the denser the finished pellets.But it does not mean that the higher the compression ratio, the better the pellet quality.Compression ratio should be calculated based on raw material for making pellets and type of feed.
Buyers can customize dies with different hole diameter and compression ratio, according to different situation and requirement.
| | | |
| --- | --- | --- |
| | Hole Diameter(mm) | Compression Ratio |
| Poultry&livestock feed | 2.5-4.5 | 1:4-1:8 |
| Fish&Shrimp feed | 1.0-2.5 | 1:16-1:28 |
| Biomass&Wood pellet | 6.0-12.0 | 1:4-1:8 |
The most common structure of die hole are straight hole;Release stepped hole;External conical hole and internal conical hole, etc. Different die holes structure are suitable for different raw material and feed formula for making pellets.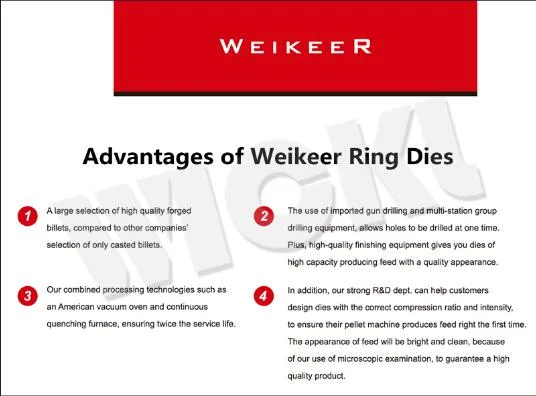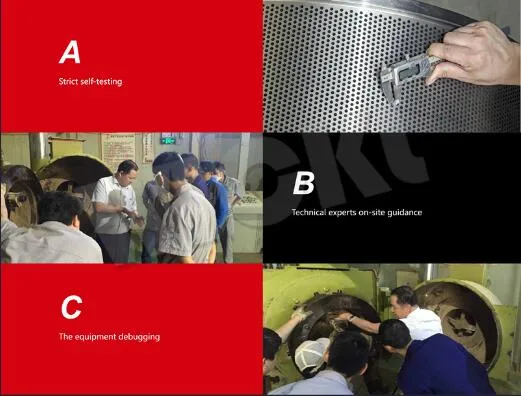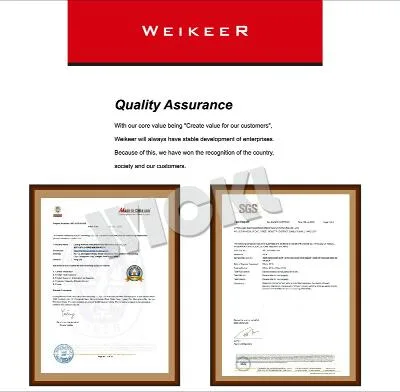 WARM TIPS
How to maintain and inspect the ring die?
1.The rollers should be correctly adjusted, make sure the hole inlets are not damaged by contact with the rollers or as a result of tramp metal;
2.Material should be evenly distributed across the whole working area;
3.Make sure that all holes work uniformly, opening the clogged holes if necessary;
4.When changing dies, carefully inspect the condition of the die seating surfaces and fixing systems including collar, clamp or wear ring.
FAQ:
1.Q:Are you a trading company or a manufacturer?
A:We are a manufacturer, which has almost 20 years of experience in this industry.
2.Q:How can I get to your company?
A:You can get a flight to Nanjing Lukou Airport. Then you can take the high-speed railway from Nanjing station to Liyang station. Or We will go to pick up.
3.Q:Do you have some foreign customers using your pellet mill die?
A:Yes, we have.Our company has established business relationships with customers in South Africa, Canada,Vietnam, Argentina, New Zealand, Peru, India,Pakistan, Ecuador etc.
4.Q:How long can your ring die be used?
A:Our ring die has long service life.The service life time is about 1000-2000 hours.
5.Q:What are the factors affecting the lifespan of a die?
A:There are many factors affect the service life of a die:
The composition of raw material
The characteristics of raw material
The moisture and fat content of material before pelletizing
The particle size of the mash
The heat conditioning of the mash
The pellet mill controls
Many others
6.Q:How to buy your pellet mill spare parts?
A:Just tell us the brand and model of your pellet machine, we will make the precise pellet mill spare parts for you.
Welcome to visit us!