pharmacology:
This product is vitamin medicine. Vitamin C is involved in amino acid metabolism, neurotransmitter synthesis, collagen and tissue intercellular matrix synthesis. It can reduce capillary permeability, accelerate blood coagulation, stimulate coagulation function, promote iron absorption in the intestine, reduce blood lipid, increase the resistance to infection, participate in detoxification, and have the effect of anti histamine and prevent the generation of carcinogenic substance (nitrosamine) effect.
pharmacokinetics:
The protein binding rate was low. A small amount was stored in plasma and cells, and the highest concentration was found in gland tissue. Intrahepatic metabolism. When the plasma concentration was more than 14 μ g / ml, the urine excretion increased. It can be removed by hemodialysis.
Indications:
For the treatment of scurvy, can also be used for a variety of acute and chronic infectious diseases and purpura and other auxiliary treatment.

Treatment of chronic iron poisoning: Vitamin C promotes the chelation of iron by deferoxamine and accelerates the iron excretion.

Treatment of idiopathic methemoglobinemia.

The requirement of vitamin C is increased in the following cases:

(1)

patients receiving chronic hemodialysis, gastrointestinal diseases (after long-term diarrhea, gastrectomy or ileum resection), tuberculosis, cancer, ulcer disease, hyperthyroidism, fever, infection, trauma, burns, surgery, etc.;

(2)

patients receiving parenteral nutrition due to strict control or choice of diet have a sudden weight loss due to malnutrition And in pregnancy and lactation;

(3)

when barbiturates, tetracyclines, salicylic acids, or vitamin C are used as urinary acidification drugs.

adverse reactions:
1.Long term use of 2-3 g daily can cause scurvy after drug withdrawal.
2.Long term use of large amounts of vitamin C can cause uric acid salt, cysteine salt or oxalate stone.
3.Rapid intravenous injection can cause dizziness and syncope.
precautions:
1.The role of vitamin C in the prevention or treatment of cancer, gingivitis, suppuration, bleeding, hematuria, retinal hemorrhage, depression, dental caries, anemia, acne, infertility, aging, arteriosclerosis, ulcers, tuberculosis, dysentery, collagen diseases, fractures, skin ulcers, hay fever, drug poisoning, vascular embolism, cold, etc.
2.Interference with diagnosis. The results of the following diagnostic tests will be affected by taking large amount of drugs:
(1)fecal occult blood can cause false positive; (2) it can interfere with the automatic analysis results of serum lactate dehydrogenase and serum transaminase; (3) urine sugar (copper sulfate method) and glucose (oxidase method) can lead to false positive; (4) urine oxalate, urate and cysteine concentrations increase; (5) serum bilirubin concentration decreases; (6) urine pH drops.
3.The following cases should be used with caution:
(1)cysteinuria; (2) gout; (3) hyperoxaluria; (4) oxalate deposition; (5) uric acid salt kidney stones; (6) diabetes mellitus (because vitamin C may interfere with blood glucose quantification); (7) glucose-6-phosphate dehydrogenase deficiency; (8) hemochromatosis; (9) sideroblastic anemia or thalassemia; (10) sickle cell anemia.
4.If you take a large amount of drugs for a long time, you may have symptoms of scurvy, so you should reduce the dosage gradually.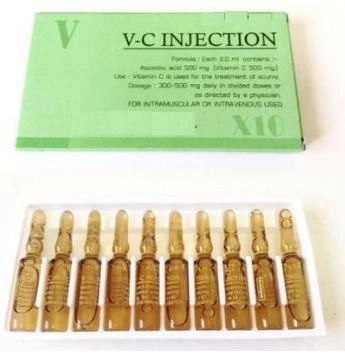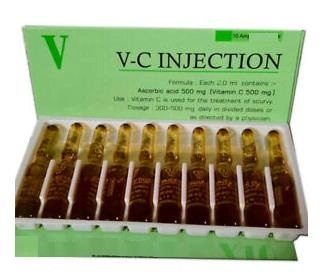 storage:
Keep in dark and sealed. The preparation can not be used after its color turns yellow.